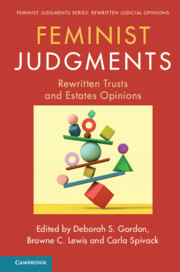 Rewritten Trusts and Estates Opinions

Coming soon

Expected online publication date:

August 2020

Print publication:

31 August 2020

For women and other marginalized groups, the reality is that the laws regulating estates and trusts may not be treating them fairly. By using popular feminist legal theories as well as their own definitions of feminism, the authors of this volume present rewritten opinions from well-known estates and trust cases. Covering eleven important cases, this collection reflects the diversity in society and explores the need for greater diversity in the law. By re-examining these cases, the contributors are able to demonstrate how women's property rights, as well as the rights of other marginalized groups, have been limited by the law.
---
By , , , , , , , , , , , , , , , , , , , , , , , , , , , , , , , , , , , , , , , , , , , , , , , , , , , , , , , , , , , , , , , , , , , , , , , , , , , , , , , , , , , , , , , , , , , , , , , , , , , , , , , , , , , , , , , , , , , , , , , , , , , , , , , , , , , , , , , , , , , , , , , , , , , , , , , , , , , , , , , , , , , , , , , , , , , , , , , , , , , , , , , , , , , , , , , , , , , , , , , , , , , , , , , , , , , , , , , , , , , , , , , , , , , , , , , , , , , , , , , , , ,

Published online:

05 January 2012

Print publication:

11 July 2011

, pp

xv-xxviii
---