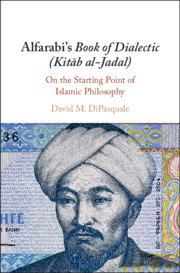 On the Starting Point of Islamic Philosophy

Coming soon

Expected online publication date:

October 2019

Print publication:

31 October 2019

Widely regarded as the founder of the Islamic philosophical tradition, and as the single greatest philosophical authority after Aristotle by his successors in the medieval Islamic, Jewish, and Christian communities, Alfarabi was a leading figure in the fields of Aristotelian logic and Platonic political science. The first complete English translation of his commentary on Aristotle's Topics, Alfarabi's Book of Dialectic, or Kitāb al-Jadal, is presented here in a deeply researched edition based on the most complete Arabic manuscript sources. David M. DiPasquale argues that Alfarabi's understanding of the Socratic art of dialectic is the key prism through which to grasp his recovery of an authentic tradition of Greek science on the verge of extinction. He also suggests that the Book of Dialectic is unique to the extent to which it unites Alfarabi's logical and political writings, opening up novel ways of interpreting Alfarabi's influence.
---