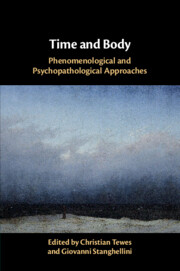 Phenomenological and Psychopathological Approaches

Coming soon

Expected online publication date:

November 2020

Print publication:

30 November 2020

Time and Body promotes the application of phenomenological psychopathology and embodied research to a broad spectrum of mental disorders. In a new and practical way, it integrates the latest research on the temporal and intersubjective constitution of the body, self and its mental disorders from phenomenological, embodied and interdisciplinary research perspectives. The authors investigate how temporal processes apply to the contribution of embodiment and selfhood, as well as to their destabilization, such as in eating disorders and borderline personality disorders, schizophrenia, depression, social anxiety or dementia. The chapters demonstrate the applicability of phenomenological psychopathology to a range of illnesses and its relevance to treatment and clinical practice.
---