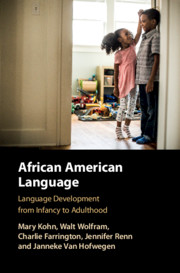 Language development from Infancy to Adulthood

Coming soon

Expected online publication date:

November 2020

Print publication:

30 November 2020

From birth to early adulthood, all aspects of a child's life undergo enormous development and change, and language is no exception. This book documents the results of a pioneering longitudinal linguistic survey, which followed a cohort of sixty-seven African American children over the first twenty years of life, to examine language development through childhood. It offers the first opportunity to hear what it sounds like to grow up linguistically for a cohort of African American speakers, and provides fascinating insights into key linguistics issues, such as how physical growth influences pronunciation, how social factors influence language change, and the extent to which individuals modify their language use over time. By providing a lens into some of the most foundational questions about coming of age in African American Language, this study has implications for a wide range of disciplines, from speech pathology and education, to research on language acquisition and sociolinguistics.
---
Journal: Language Variation and Change / Volume 30 / Issue 3 / October 2018
Published online by Cambridge University Press:

03 January 2019

, pp. 361-383

Print publication:

October 2018

In many varieties of African American English (AAE), glottal stop replacement and deletion of word-final /t/ and /d/ results in consonant neutralization, while the underlying voicing distinction may be maintained by other cues, such as vowel duration. Here, I examine the relationship between vowel duration, final glottal stop replacement, and deletion of word-final /t, d/ to determine whether the phonological contrast of consonant voicing is maintained through duration of the preceding vowel. Data come from conversational interviews of AAE speakers in North Carolina, Tennessee, and Washington, DC. Results indicate that glottalization and deletion of word-final /t/ and /d/ are widespread across the speakers in the analysis. Additionally, the duration of vowels is significantly longer before underlying /d/ than /t/ for consonant neutralized contexts, thus showing that duration, normally a secondary cue to final voicing, may be becoming a primary cue in AAE.
---