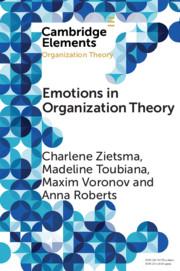 Published online:

19 March 2019

Print publication:

11 April 2019

Emotions are central to social life and thus they should be central to organization theory. However, emotions have been treated implicitly rather than theorized directly in much of organization theory, and in some literatures, have been ignored altogether. This Element focuses on emotions as intersubjective, collective and relational, and reviews structuralist, people-centered and strategic approaches to emotions in different research streams to provide one of the first broad examinations of emotions in organization theory. Charlene Zietsma, Maxim Voronov, Madeline Toubiana and Anna Roberts provide suggestions for future research within each literature and look across the literatures to identify theoretical and methodological considerations.
---
Book: Institutional Work
Published online:

15 September 2009

Print publication:

16 July 2009

, pp

141-142
---
Book: Institutional Work
Published online:

15 September 2009

Print publication:

16 July 2009

, pp

143-177

Summary

A unique contribution of institutional theory is the insight that organizations need legitimacy as well as technical efficiency to survive and thrive in their environments (DiMaggio & Powell, 1983; Meyer & Rowan, 1977). The institutionalized norms, practices, and logics which structure organizational fields exert isomorphic pressures, forming an "iron cage" which constrains organizational actions. Organizations are seen as legitimate when they conform to field structures and operate within the iron cage (DiMaggio & Powell, 1983). Much work in institutional theory has focused on the diffusion of institutional structures and the forces which support institutional isomorphism.

Yet not all institutional environments are highly institutionalized, and not all actors are equally constrained by institutional arrangements. A great deal of work in the last two decades has shown that institutional entrepreneurs may arise to question institutional arrangements (DiMaggio, 1988), resisting them strategically (Oliver, 1991; Ang & Cummings, 1997), disrupting and deinstitutionalizing them (Ahmadjian & Robinson, 2001; Oliver, 1992), and reconstructing them to suit the desires of different actors (Anand & Peterson, 2000; Hargadon & Douglas, 2001; Zilber, 2002).

Much of the prior work on institutional entrepreneurship has tended to focus retrospectively on the path of a single institutional innovation as it gained support in an emerging or existing field, often displacing an existing set of institutional arrangements (e.g. Greenwood, Suddaby & Hinings, 2002; Maguire, Hardy & Lawrence, 2004; Munir, 2005). Throughout this work, competing or independently evolving innovations which may also have been candidates for institutionalization are generally not discussed.
---