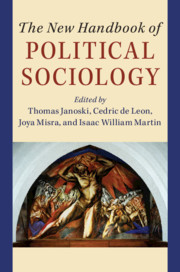 Coming soon

Expected online publication date:

February 2020

Print publication:

31 March 2020

Political sociology is a large and expanding field with many new developments, and The New Handbook of Political Sociology supplies the knowledge necessary to keep up with this exciting field. Written by a distinguished group of leading scholars in sociology, this volume provides a survey of this vibrant and growing field in the new millennium. The Handbook presents the field in six parts: theories of political sociology, the information and knowledge explosion, the state and political parties, civil society and citizenship, the varieties of state policies, and globalization and how it affects politics. Covering all subareas of the field with both theoretical orientations and empirical studies, it directly connects scholars with current research in the field. A total reconceptualization of the first edition, the new handbook features nine additional chapters and highlights the impact of the media and big data.
---
Journal: Studies in American Political Development / Volume 24 / Issue 1 / April 2010
Published online by Cambridge University Press:

09 February 2010

, pp. 121-141

Print publication:

April 2010

Social scientists of democratic change have emphasized the role of class action in that process, neglecting the discursive shift that was necessary to legitimate mass party competition in the early American case. Although historians of U.S. party formation have emphasized the discursive dimension of this transition, they have focused on more formal theories of party and neglected the importance of martial discourse, which was perhaps more pedestrian, but had a distinctive mass appeal. Drawing on the papers of prominent politicians and the editorials of local party newspapers in Alabama and Illinois, I argue that incipient party elites used the language of wartime discipline to recruit national-level leaders, local operatives, and voters to the new form of elective politics. Martial discourse was therefore integral to the larger discourse of party, which ultimately helped to overcome the inherited antipartyism of the early Republic.
---