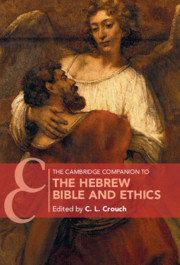 Coming soon

Expected online publication date:

December 2020

Print publication:

31 December 2020

The Cambridge Companion to the Hebrew Bible and Ethics offers an engaging and informative response to a wide range of ethical issues. Drawing connections between ancient and contemporary ethical problems, the essays address a variety of topics, including student loan debt, criminal justice reform, ethnicity and inclusion, family systems, and military violence. The volume emphasizes the contextual nature of ethical reflection, stressing the importance of historical knowledge and understanding in illuminating the concerns, the logic, and the intentions of the biblical texts. Twenty essays, all specially commissioned for this volume, address the texts' historical and literary contexts and identify key social, political, and cultural factors affecting their ethical ideas. They also explore how these texts can contribute to contemporary ethical discussions. The Cambridge Companion to the Hebrew Bible and Ethics is suitable for use in undergraduate and graduate courses in liberal arts colleges and universities, as well as seminaries.
---
Edward F. Keen

,

Katrin Mende

,

Heather C. Yun

,

Wade K. Aldous

,

Timothy E. Wallum

,

Charles H. Guymon

,

David W. Cole

,

Helen K. Crouch

,

Matthew E. Griffith

,

Bernadette L. Thompson

,

Joel T. Rose

,

Clinton K. Murray
Journal: Infection Control & Hospital Epidemiology / Volume 33 / Issue 9 / September 2012
Published online by Cambridge University Press:

02 January 2015

, pp. 905-911

Print publication:

September 2012

Objective.

To determine whether multidrug-resistant (MDR) gram-negative organisms are present in Afghanistan or Iraq soil samples, contaminate standard deployed hospital or modular operating rooms (ORs), or aerosolize during surgical procedures.

Design.

Active surveillance.

Setting.

US military hospitals in the United States, Afghanistan, and Iraq.

Methods.

Soil samples were collected from sites throughout Afghanistan and Iraq and analyzed for presence of MDR bacteria. Environmental sampling of selected newly established modular and deployed OR high-touch surfaces and equipment was performed to determine the presence of bacterial contamination. Gram-negative bacteria aerosolization during OR surgical procedures was determined by microbiological analysis of settle plate growth.

Results.

Subsurface soil sample isolates recovered in Afghanistan and Iraq included various pansusceptible members of Enterobacteriaceae, Vibrio species, Pseudomonas species, Acinetobacter Iwojfii, and coagulase-negative Staphylococcus (CNS). OR contamination studies in Afghanistan revealed 1 surface with a Micrococcus luteus. Newly established US-based modular ORs and the colocated fixed-facility ORs revealed no gram-negative bacterial contamination prior to the opening of the modular OR and 5 weeks later. Bacterial aerosolization during surgery in a deployed fixed hospital revealed a mean gram-negative bacteria colony count of 12.8 colony-forming units (CFU)/dm2/h (standard deviation [SD], 17.0) during surgeries and 6.5 CFU/dm2/h (SD, 7.5; P = .14) when the OR was not in use.

Conclusion.

This study demonstrates no significant gram-negative bacilli colonization of modular and fixed-facility ORs or dirt and no significant aerosolization of these bacilli during surgical procedures. These results lend additional support to the role of nosocomial transmission of MDR pathogens or the colonization of the patient themselves prior to injury.
---