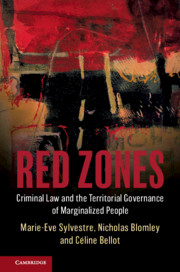 Criminal Law and the Territorial Governance of Marginalized People

Coming soon

Expected online publication date:

January 2020

Print publication:

31 January 2020

In Red Zones, Marie-Eve Sylvestre, Nicholas Blomley, and Céline Bellot examine the court-imposed territorial restrictions and other bail and sentencing conditions that are increasingly issued in the context of criminal proceedings. Drawing on extensive fieldwork with legal actors in the criminal justice system, as well as those who have been subjected to court surveillance, the authors demonstrate the devastating impact these restrictions have on the marginalized populations - the homeless, drug users, sex workers and protesters - who depend on public spaces. On a broader level, the authors show how red zones, unlike better publicized forms of spatial regulation such as legislation or policing strategies, create a form of legal territorialization that threatens to invert traditional expectations of justice and reshape our understanding of criminal law and punishment.
---
Journal: Canadian Journal of Law & Society / La Revue Canadienne Droit et Société / Volume 26 / Issue 3 / December 2011
Published online by Cambridge University Press:

02 January 2013

, pp. 531-561

Print publication:

December 2011

This article is based on fieldwork conducted in Montreal and Ottawa, between 2005 and 2009, with homeless persons in the criminal justice system and actors working at various levels in the criminalization and prosecution process. It analyses the strategies of control applied to homeless persons and their experiences in the judicial system in relation to criminal offences associated with their use of public spaces. The authors suggest that the issue of the visibility or invisibility of homeless persons is central to the tensions that characterize their dealings with the criminal justice system: although their visibility in public spaces contributes to their identification and profiling based on social characteristics, invisibility leads to violations of their fundamental rights and is a barrier to access to justice when they become involved with the justice system.
---