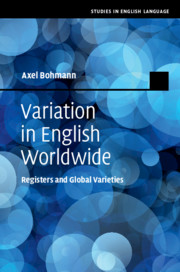 Registers and Global Varieties

Coming soon

Expected online publication date:

November 2019

Print publication:

30 November 2019

World Englishes is one of the most active fields of present day linguistic research. This book provides a comprehensive overview of variation in English across the globe, by analysing a large corpus of texts from the English speaking world. The analysis draws on a larger number of individual texts and linguistic features than previous studies have done. It includes a systematic comparison of the influence of register and national variety on variation in English world-wide, and explores patterns of variation in both qualitative and quantitative terms. The results provide a testing ground for theoretical models, and highlight the importance of register in mediating linguistic differences across national varieties.
---
Journal: English Language & Linguistics / Volume 20 / Issue 1 / March 2016
Published online by Cambridge University Press:

01 December 2015

, pp. 129-152

Print publication:

March 2016

The concept of speaky-spoky, a pejorative label for hypercorrect speech in Jamaica, has thus far been described in the context of shared speech community norms (Patrick 1999). In this article, I analyze a stretch of speaky-spoky discourse and its recontextualization. The theoretical perspectives from which the data are examined are that of the sociolinguistics of globalization (Blommaert 2010) and of entextualization (Bauman & Briggs 1990; Silverstein & Urban 1996). The method of analysis draws on Goffman's writing on frames (1974) and production formats (1981). I argue that the ideological dimensions and interactional versatility of the speaky-spoky concept have thus far not received enough empirical attention. To address this gap, I propose to interpret speaky-spoky as a dynamic and relational 'construct resource' (Fabricius & Mortensen 2013) that speakers draw upon to highlight social meaning in interaction.
---