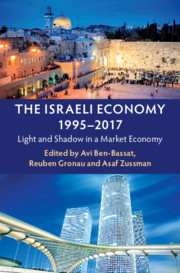 Light and Shadow in a Market Economy

Coming soon

Expected online publication date:

December 2020

Print publication:

31 December 2020

This book describes and analyses developments in the Israeli economy from 1995 to 2017. During this period, inflation was vanquished, the deficit in the balance of payments turned into a surplus, the public debt to GDP ratio sharply decreased, and unemployment has declined to an historical low. Nevertheless, the economy still suffers from many maladies: the productivity level is among the lowest in the developed world, and inequality has generally been on the rise. In the face of these threats to future growth and social cohesiveness, the question arises: has the reliance on market forces gone too far, and has the government retreated from its traditional tasks, tasks the private sector cannot (or does not) perform.
---