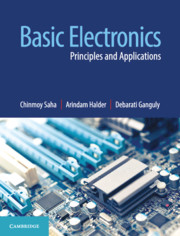 Principles and Applications

Coming soon

Expected online publication date:

November 2018

Print publication:

01 March 2018

Providing in-depth coverage and comprehensive discussion on essential concepts of electronics engineering, this textbook begins with detailed explanation of classification of semiconductors, transport phenomena in semiconductor and Junction diodes. It covers circuit modeling techniques for bipolar junction transistors, used in designing amplifiers. The textbook discusses design construction and operation principle for junction gate field-effect transistor, silicon controlled rectifier and operational amplifier. Two separate chapters on Introduction to Communication Systems and Digital Electronics covers topics including modulation techniques, logic circuits, De Morgan's theorem and digital circuits. Applications of oscillators, silicon controlled rectifier and operational amplifier are covered in detail. Pedagogical features including solved problems, multiple choice questions and unsolved exercises are interspersed throughout the textbook for better understating of concepts. This text is the ideal resource for first year undergraduate engineering students taking an introductory, single-semester course in fundamentals of electronics engineering/principles of electronics engineering.
---