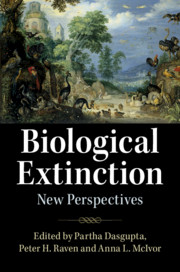 New Perspectives

Coming soon

Expected online publication date:

July 2019

Print publication:

31 July 2019

The rapidly increasing human pressure on the biosphere is pushing biodiversity into the sixth mass extinction event in the history of life on Earth. The organisms being exterminated are integral working parts of our planet's life support system, and their loss is permanent. Like climate change, this irreversible loss has potentially devastating consequences for humanity. As we come to recognise the many ways in which we depend on nature, this can pave the way for a new ethic that acknowledges the importance of co-existence between humans and other species. Biological Extinction features chapters contributed by leading thinkers in diverse fields of knowledge and practice, including biology, economics, geology, archaeology, demography, architecture and intermediate technology. Drawing on examples from various socio-ecological systems, the book offers new perspectives on the urgent issue of biological extinction, proposing novel solutions to the problems that we face.
---
from Part IV - Sacred Species

Book: Sacred Species and Sites
Published online:

05 August 2012

Print publication:

19 July 2012

, pp

195-206

Summary

Introduction

Currently more than 16 000 species are considered threatened with extinction worldwide, out of 41 000 species which have so far been assessed by the IUCN Red List (2007). More than 750 species are already extinct, and 65 species are only found in captivity or cultivation. The protection and conservation of species is paramount, not only to preserve our natural heritage for future generations, but also because species form the ecosystems on which we and all life depend.

In many cultures and faiths throughout the world, certain species are held sacred. Sacredness can mean that an object is exclusively dedicated to a god or religious purpose or is made holy by religious association, or it can signify that an object is safeguarded by religion, reverence or tradition (Allen, 1990). Therefore, sacred species may be protected from human activities which threaten their survival, such as over-exploitation and habitat degradation. This has potential for contributing to a species' conservation.

In this chapter the results of a pilot study carried out by the Cambridge Centre for Landscape and People on the conservation status of sacred species are presented. This information is used to explore whether being held sacred can protect species from extinction.
---