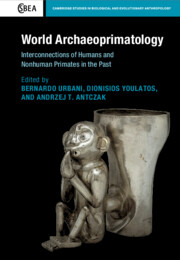 Interconnections of Humans and Nonhuman Primates in the Past

Coming soon

Expected online publication date:

August 2022

Print publication:

31 July 2022

Archaeoprimatology intertwines archaeology and primatology for understanding the ancient liminal relationships between humans and nonhuman primates. During the last decade novel studies have boosted this discipline. This edited volume is the first compendium of archaeoprimatological studies ever produced. Written by a culturally diverse group of scholars, with multiple theoretical views and methodological perspectives, it covers new zooarchaeological examinations and material culture evaluations, as well as innovative uses of oral and written sources. Themes covered comprise the survey of past primates as pets, symbolic mediators, prey, iconographic references, or living commodities. The book covers different regions of the world, from the Americas to Asia, along with studies from Africa and Europe. Temporally, the chapters explore the human-nonhuman primate interface from deep in time to more recent historical times, covering both extinct and extant primate taxa. This anthology of archaeoprimatological studies will be of interest to archaeologists, primatologists, anthropologists, art historians, paleontologists, conservationists, zoologists, historical ecologists, philologists, and ethnobiologists.
---
Noa Corcoran-Tadd

,

Jorge Ulloa Hung

,

Andrzej T. Antczak

,

Eduardo Herrera Malatesta

,

Corinne L. Hofman
Journal: Latin American Antiquity / Volume 32 / Issue 3 / September 2021
Published online by Cambridge University Press:

30 March 2021

, pp. 468-485

Print publication:

September 2021

The early colonial period witnessed new scales of connectivity and unprecedented projects of resource extraction across the Spanish Americas. Yet such transformations also drew heavily on preexisting Indigenous landscapes, technologies, and institutions. Drawing together recent discussions in archaeology and geography about mobility and resource materialities, this article takes the early colonial route as a central object of investigation and contributes to new emerging interpretive frameworks that make sense of Spanish colonialism in the Americas as a variable, large-scale, and materially constituted process. Using three case studies—the ruta de Colón on the island of Hispaniola, the routes connecting the southeastern Caribbean islands with mainland South America, and the ruta de la plata in the south-central Andes—we develop a comparative archaeological analysis that reveals divergent trajectories of persistence, appropriation, and erasure in the region's routes and regimes of extraction and mobility during the fifteenth and sixteenth centuries.
---