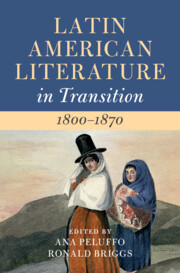 Volume 2

Coming soon

Expected online publication date:

October 2022

Print publication:

31 October 2022

Latin American Literature in Transition 1800-1870 uses affect as an analytical tool to uncover the countervailing forces that shaped Latin American literatures and cultures during the first six decades of the nineteenth century. Chapters provide perspectives on colonial violence and its representation, on the development of the national idea, on communities within and beyond the nation, and on the intersectional development of subjectivity during and after processes of cultural and political independence. This volume includes interdisciplinary approaches to nineteenth-century Latin American cultures that range from visual and art history to historiography to comparative literature and the study of literary and popular print culture. This book engages with the complex and sometimes counterintuitive relationship between felt ideas of community and the political changes that shaped these affective networks and communities.
---
from Part II - Women Writers in Creole Societies: Nation Building Projects
Published online:

05 November 2015

Print publication:

12 November 2015

, pp

164-180

Summary

The written traces and cultural legacy left by colonial Spanish American women, especially interpreters, translators, nuns, and other religious women, provided the foundation for modern women's creations. Women played important roles in the production of culture during the early modern period throughout the Atlantic world and participated actively in the settlement of colonial societies. The most well-known woman from early modern period is Malinche, as she is known today, though she was called Marina by the Spaniards and Malintzin by the natives. A young native woman given to Hernan Cortes, leader of the Spanish expedition that conquered Mexico-Tenochtitlan, along with nineteen other women when he arrived with his entourage on the coast of Tabasco in 1519. Malinche became a feminine paradigm that survived throughout the colonial period, was revived in the nineteenth century as a literary character, became a scapegoat in the construction of the patria. She was then promoted as the epitome of Mexican consciousness in the twentieth century.
---