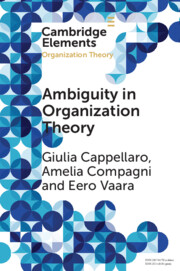 From Intrinsic to Strategic Perspectives
Published online:

12 January 2023

Print publication:

02 February 2023

This Element presents and discusses the main trajectories in the evolution of the concept of ambiguity and the most relevant theoretical contributions developed around it. It specifically elaborates on both the intrinsic perspectives on ambiguity as an inherent part of organizational decision-making processes and the more recent strategic perspectives on discursively constructed strategic ambiguity. It helps illuminate the path ahead of organizational scholars and offers new avenues for future research. This is important given the ever more pervasive presence of ambiguity in and around organizations and societies.
---
Iris Bosa

,

Adriana Castelli

,

Michele Castelli

,

Oriana Ciani

,

Amelia Compagni

,

Matteo M. Galizzi

,

Matteo Garofano

,

Simone Ghislandi

,

Margherita Giannoni

,

Giorgia Marini

,

Milena Vainieri
Journal: Health Economics, Policy and Law / Volume 17 / Issue 1 / January 2022
Published online by Cambridge University Press:

05 March 2021

, pp. 1-13

Article

You have access

Open access

On 31st January 2020, the Italian cabinet declared a 6-month national emergency after the detection of the first two COVID-19 positive cases in Rome, two Chinese tourists travelling from Wuhan. Between then and the total lockdown introduced on 22nd March 2020 Italy was hit by an unprecedented crisis. In addition to being the first European country to be heavily swept by the COVID-19 pandemic, Italy was the first to introduce stringent lockdown measures. The SARS-CoV-2 outbreak and related COVID-19 pandemic have been the worst public health challenge endured in recent history by Italy. Two months since the beginning of the first wave, the estimated excess deaths in Lombardy, the hardest hit region in the country, reached a peak of more than 23,000 deaths. The extraordinary pressures exerted on the Italian Servizio Sanitario Nazionale (SSN) inevitably leads to questions about its preparedness and the appropriateness and effectiveness of responses implemented at both national and regional levels. The aim of the paper is to critically review the Italian response to the COVID-19 crisis spanning from the first early acute phases of the emergency (March–May 2020) to the relative stability of the epidemiological situation just before the second outbreak in October 2020.
---
Amelia Compagni

,

Simona Bartoli

,

Bernhard Buehrlen

,

Giovanni Fattore

,

Dolores Ibarreta

,

Emma Gutierrez de Mesa
Journal: International Journal of Technology Assessment in Health Care / Volume 24 / Issue 3 / July 2008
Published online by Cambridge University Press:

04 July 2008

, pp. 294-302

Objectives: The study aims at evaluating the economic evidence related to testing for genetic variants of the drug-metabolizing enzyme, TPMT. Detecting TPMT genetic variants before the administration of azathioprine (AZA) has the potential to prevent serious and costly adverse drug reactions (ADRs), such as neutropenia. In particular, our analysis concentrated on assessing the reliability of data on costs of neutropenia and performing the tests, the two main cost categories that could inform an economic evaluation of TPMT pharmacogenetic testing.

Methods: A systematic literature review was performed to gather evidence on the costs of testing and neutropenia. Articles were critically appraised for their comprehensiveness and quality. To better estimate costs of TPMT tests, a small-scale survey of European diagnostic laboratories was conducted.

Results: Only seven articles were retrieved specifying the costs associated with the management and treatment of AZA-induced neutropenia. Most of these studies are based on theoretical modeling reconstructed with key-informants or on very few cases of ADRs, and either the methodology for cost calculation is not specified or costs are based on national cost databases and tariffs. After critical appraisal of these studies, we considered €2,116 as the most reliable estimate for the cost of a case of neutropenia. Literature review accompanied by the survey of several diagnostic laboratories also provided an estimate (€68) for TPMT testing. Based on these values, the net cost per prevented case of neutropenia equals to €5,300.

Conclusions: Solid economic considerations related to TPMT pharmacogenetic testing are still limited by underreporting of ADRs and high level of approximation related to cost data. Ad hoc observational studies and the ADR recording process embedded in pharmacovigilance systems, established across Europe, should represent more reliable sources of cost data in the future.
---