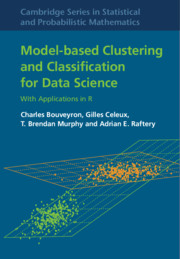 With Applications in R

Coming soon

Expected online publication date:

July 2019

Print publication:

31 July 2019

Cluster analysis finds groups in data automatically. Most methods have been heuristic and leave open such central questions as: how many clusters are there? Which method should I use? How should I handle outliers? Classification assigns new observations to groups given previously classified observations, and also has open questions about parameter tuning, robustness and uncertainty assessment. This book frames cluster analysis and classification in terms of statistical models, thus yielding principled estimation, testing and prediction methods, and sound answers to the central questions. It builds the basic ideas in an accessible but rigorous way, with extensive data examples and R code; describes modern approaches to high-dimensional data and networks; and explains such recent advances as Bayesian regularization, non-Gaussian model-based clustering, cluster merging, variable selection, semi-supervised and robust classification, clustering of functional data, text and images, and co-clustering. Written for advanced undergraduates in data science, as well as researchers and practitioners, it assumes basic knowledge of multivariate calculus, linear algebra, probability and statistics.
---
Journal: Network Science / Volume 4 / Issue 4 / December 2016
Published online:

12 December 2016

, pp. 407-432

Print publication:

December 2016

We derive properties of latent variable models for networks, a broad class of models that includes the widely used latent position models. We characterize several features of interest, with particular focus on the degree distribution, clustering coefficient, average path length, and degree correlations. We introduce the Gaussian latent position model, and derive analytic expressions and asymptotic approximations for its network properties. We pay particular attention to one special case, the Gaussian latent position model with random effects, and show that it can represent the heavy-tailed degree distributions, positive asymptotic clustering coefficients, and small-world behaviors that often occur in observed social networks. Finally, we illustrate the ability of the models to capture important features of real networks through several well-known datasets.
---