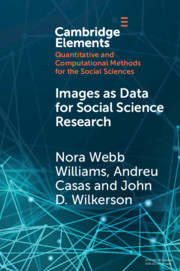 An Introduction to Convolutional Neural Nets for Image Classification
Published online:

17 July 2020

Print publication:

13 August 2020

Images play a crucial role in shaping and reflecting political life. Digitization has vastly increased the presence of such images in daily life, creating valuable new research opportunities for social scientists. We show how recent innovations in computer vision methods can substantially lower the costs of using images as data. We introduce readers to the deep learning algorithms commonly used for object recognition, facial recognition, and visual sentiment analysis. We then provide guidance and specific instructions for scholars interested in using these methods in their own research.
---
PABLO BARBERÁ

,

ANDREU CASAS

,

JONATHAN NAGLER

,

PATRICK J. EGAN

,

RICHARD BONNEAU

,

JOHN T. JOST

,

JOSHUA A. TUCKER
Journal: American Political Science Review / Volume 113 / Issue 4 / November 2019
Published online by Cambridge University Press:

12 July 2019

, pp. 883-901

Print publication:

November 2019

Article

Are legislators responsive to the priorities of the public? Research demonstrates a strong correspondence between the issues about which the public cares and the issues addressed by politicians, but conclusive evidence about who leads whom in setting the political agenda has yet to be uncovered. We answer this question with fine-grained temporal analyses of Twitter messages by legislators and the public during the 113th US Congress. After employing an unsupervised method that classifies tweets sent by legislators and citizens into topics, we use vector autoregression models to explore whose priorities more strongly predict the relationship between citizens and politicians. We find that legislators are more likely to follow, than to lead, discussion of public issues, results that hold even after controlling for the agenda-setting effects of the media. We also find, however, that legislators are more likely to be responsive to their supporters than to the general public.
---
Ignasi Marco

,

Oscar Cabezón

,

Roser Velarde

,

Laura Fernández-Sirera

,

Andreu Colom-Cadena

,

Emmanuel Serrano

,

Rosa Rosell

,

Encarna Casas-Díaz

,

Santiago Lavín
Journal: Animal Health Research Reviews / Volume 16 / Issue 1 / June 2015
Published online by Cambridge University Press:

08 June 2015

, pp. 70-77

Print publication:

June 2015

In 2001, border disease virus (BDV) was identified as the cause of a previously unreported disease in Pyrenean chamois (Rupicapra pyrenaica) in Spain. Since then, the disease has caused a dramatic decrease, and in some cases collapse, of chamois populations and has expanded to nearly the entire distribution area in the Pyrenees. Chamois BDV was characterized as BDV-4 genotype and experimental studies confirmed that it was the primary agent of the disease. The infection has become endemic in the Central and Eastern Pyrenees. However, while most Pyrenean chamois populations have been severely affected by the disease, others have not, despite the circulation of BDV in apparently healthy individuals, suggesting the existence of different viral strategies for persisting in the host population. Changes in the interplay of pathogen, host and environmental factors may lead to the formation of different disease patterns. A key factor influencing disease emergence may be pathogen invasiveness through viral mutation. Host factors, such as behavior, immunity at the population level and genetic variability, may also have driven different epidemiological scenarios. Climatic and other ecological factors may have favored secondary infections, such as pneumonia, that under particular circumstances have been major contributing factors in the high mortality observed in some areas.
---