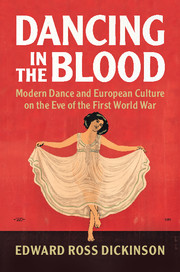 Modern Dance and European Culture on the Eve of the First World War
Published online:

22 July 2017

Print publication:

14 July 2017

This is a remarkable account of the revolutionary impact of modern dance on European cultural life in the early twentieth century. Edward Ross Dickinson uncovers modern dance's place in the emerging 'mass' culture of the modern metropolis, sufficiently ubiquitous and high-profile to spark media storms, parliamentary debates, and exasperated denunciations even from progressive art critics. He shows how modern dance spoke in multiple registers - as religious and as scientific; as redemptively chaste and scandalously sensual; as elitist and popular. He reveals the connections between modern dance and changing gender relations and family dynamics, imperialism, racism, and cultural exchanges with the wider non-European world, and new conceptions of selfhood. Ultimately the book finds in these complex and often contradictory connections a new way of understanding the power of modernism and modernity and their capacity to revolutionize and transform the modern world in the momentous, creative, violent middle decades of the twentieth century.
---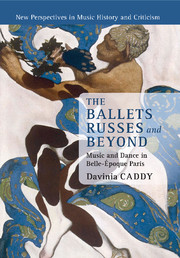 Music and Dance in Belle-Époque Paris
Published online:

05 May 2012

Print publication:

26 April 2012

Belle-époque Paris witnessed the emergence of a vibrant and diverse dance scene, one that crystallized around the Ballets Russes, the Russian dance company formed by impresario Sergey Diaghilev. The company has long served as a convenient turning point in the history of dance, celebrated for its revolutionary choreography and innovative productions. This book presents a fresh slant on this much-told history. Focusing on the relation between music and dance, Davinia Caddy approaches the Ballets Russes with a wide-angled lens that embraces not just the choreographic, but also the cultural, political, theatrical and aesthetic contexts in which the company made its name. In addition, Caddy examines and interprets contemporary French dance practices, throwing new light on some of the most important debates and discourses of the day.
---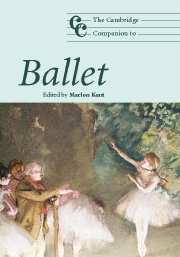 Published online:

28 September 2011

Print publication:

07 June 2007

Ballet is a paradox: much loved but little studied. It is a beautiful fairy tale; detached from its origins and unrelated to the men and women who created it. Yet ballet has a history, little known and rarely presented. These great works have dark sides and moral ambiguities, not always nor immediately visible. The daring and challenging quality of ballet as well as its perceived 'safe' nature is not only one of its fascinations but one of the intriguing questions to be explored in this Companion. The essays reveal the conception, intent and underlying meaning of ballets and recreate the historical reality in which they emerged. The reader will find new and unexpected aspects of ballet, its history and its aesthetics, the evolution of plot and narrative, new insights into the reality of training, the choice of costume and the transformation of an old art in a modern world.
---