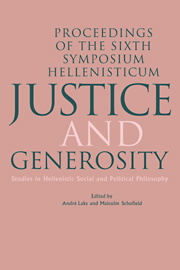 Justice and Generosity
Studies in Hellenistic Social and Political Philosophy - Proceedings of the Sixth Symposium Hellenisticum
Buy print or eBook
[Opens in a new window]
Preface
Published online by Cambridge University Press:  15 October 2009
Show author details
Summary
The sixth Symposium Hellenisticum returned to England for the first time since the initial meeting in Oxford in 1978. It took place in Cambridge between 17 and 23 August 1992. Accommodation and meals were provided in St John's College, and discussion sessions were held in the Faculty of Classics. The papers contained in this volume are revised versions of the drafts submitted to the conference: footnotes testify to the vigour and range of the criticisms they provoked during and after the proceedings. Hence as has been usual on these occasions the revisions are sometimes thoroughgoing.
The following scholars participated in the Symposium: Antonina Alberti, Keimpe Algra, Julia Annas, Margaret Atkins, Chris Bobonich, Jacques Brunschwig, Myles Burnyeat, Victor Caston, Andrew Erskine, Jean-Louis Ferrary, David Hahm, Brad Inwood, Anna Maria Ioppolo, André Laks, Tony Long, Jaap Mansfeld, Mario Mignucci, Phil Mitsis, John Moles, Carlo Natali, Martha Nussbaum, John Procopé, Malcolm Schofield, David Sedley, Richard Sorabji, Gisela Striker. Melissa Lane acted as graduate assistant.
Many participants received financial assistance from their home institutions, for which we offer thanks. We are particularly indebted to St John's College and the Faculty of Classics: each made substantial subventions towards costs. Without this generous help the Symposium could not have gone ahead.
Type

Chapter

Information

Justice and Generosity

Studies in Hellenistic Social and Political Philosophy - Proceedings of the Sixth Symposium Hellenisticum

, pp. ix - x

Publisher: Cambridge University Press

Print publication year: 1995