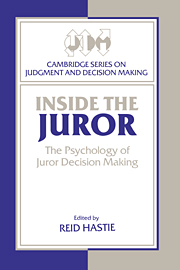 Inside the Juror
The Psychology of Juror Decision Making
Buy print or eBook
[Opens in a new window]
Series preface
Published online by Cambridge University Press:  04 August 2010
Show author details
Summary
The Society for Judgment and Decision Making first collaborated with Cambridge University Press in 1986, with the publication of Judgment and Decision Making: An Interdisciplinary Reader, edited by Hal R. Arkes and Kenneth R. Hammond. As the editors stated in their introduction, "judgment and decision making are of critical importance, and the fact that it is possible to study them in a scientific, empirical manner is a new and exciting event in the recent history of science" (p. 1).
The decade of the 1980s witnessed the flowering of the intellectual seeds planted by theoretical pioneers and seminal researchers in the area of human judgment and decision making. The founding and expansion of the Society was one feature of this growth. At the same time there has been an explosion of research and teaching in departments of psychology, economics, and medicine, with significant practical contributions through applied research and consulting in public and private institutions.
The Arkes and Hammond Reader was successful as an outline of the core ideas and approaches of the field and an illustration of the impressive range of useful applications. The Society, with Ken Hammond's encouragement, recognized the potential for a series of books to provide an educational and intellectual focus for the continued growth and dissemination of judgment and decision making research. Ken became the first Chair of the Publications Committee for the Society, devoting enormous amounts of time, creativity, and charm to this new initiative.
Type

Chapter

Information

Publisher: Cambridge University Press

Print publication year: 1993